Achieving the SDGs requires us to re-imagine business. Fair Trade Enterprises can show how
Today, on the day that the International Fair Trade Charter is launched, Chief Executive of WFTO Erinch Sahan reflects on how Fair Trade enterprises can be instrumental in delivering the Sustainable Development Goals.
Today is the third anniversary of the Sustainable Development Goals (SDGs) and we all need to up our game if we are to meet these goals by 2030. Today is also the day the Fair Trade movement launches a new charter that captures a vision that transcends borders – a vision to transform our world. The need could not be greater. Inequality is spiralling and our economic footprint is stretching our planet beyond its boundaries. Meanwhile, hunger and poverty persist in a world with adequate, albeit finite natural resources. Since the turn of the century, the poorest half of the world's population has received just 1 percent of the total increase in global wealth. A key part of the problem is the way we distribute the benefits of our economies and we need to be bold about the way we shape business and trade if we are to get there.
330 businesses experimenting with an alternative
What kind of business and trade will deliver the goals? For starters, we need businesses that have as their central-design feature an ability to prioritise social and environmental objectives. In the Fair Trade movement, there's been an experiment going on around this for decades that could inform broader efforts to reshape trade and business. An exciting part of this experiment is happening within a community of enterprises that have emerged with a particular goal in mind: using trade to benefit farmers, workers and artisans. These are the 330 such enterprises who are members of the World Fair Trade Organization, a community of Fair Trade Enterprises pioneering models of business that put people and planet first.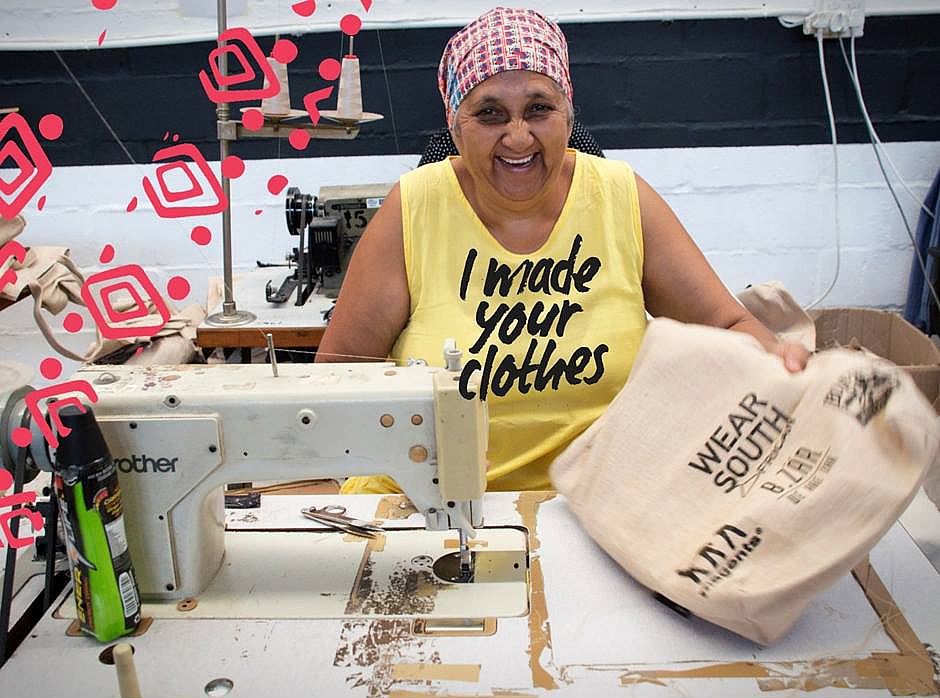 Garment worker Charmaine of Township Pattterns. Credit: WFTO
The examples range from worker-controlled businesses like Creative Handicrafts in Mumbai, to mission-led businesses like Dr. Bronner's and Turqle Trading, to multi-stakeholder models like El Puente, and community-led businesses like Cojolya and Solid Rock. They range from under $100k to over $100m in turnover and transcend food, homewares and fashion. These are alternatives to the mainstream business world because their priority is a social mission. Across the ranks of the WFTO there are countless examples of such enterprises that are commercially-viable and market oriented and have traded for decades. This is an experiment in what business and trade could look like and the experiment is working.
If we want business and trade to deliver the SDGs, we need to remake business so it is wired to serve a mission that goes far beyond profit maximisation. We need mission-led businesses while remaining market-oriented and commercially-viable. This isn't the same as profit maximisation.
Human rights is driven by trading practices, which relies on the right mission
Fair Trade Enterprises have unique features at three levels. It's a triangulation across business structure, trading practices and conditions on the ground.
Mission and Structure (e.g. mission of empowering workers and farmers in their governing documents, profits used for mission, representation of workers and farmers on boards);

Trading Relationship (e.g. payment terms favourable to producers, long-term commitments to suppliers); and

Human Rights (e.g. upholding child and labour rights).
These three pillars reinforce one-another. Across supply-chains, realisation of human rights requires trading practices that provide the stability, pricing and incentives that champion worker, farmer and community empowerment. Such trading practices are tough to prioritise in a cut-throat environment with pressures to increase margins and grow profits. So it is the mission and structure of a business that can champion or limit such trading practices. It is the board, pressure to deliver growing returns and business mission that shapes the incentives of managers, and commercial goals of the business, in turn determining if managers can pursue such supplier relationships, even where it doesn't increase quarterly profits. Human rights needs fair trading practices, and fair trading practices depend on business structures that foster it. When a Fair Trade Enterprise is in full motion, the three aspects can drive each other, leading to a virtuous circle. These are the kinds of enterprises that can drive the SDG agenda in full.
Policy-makers shaping the business ecosystem
If we want economies that deliver the SDGs, we need business and trade to be built so it can prioritise these goals. And this means a business ecosystem that fosters this. The business ecosystem in many countries currently fosters a model of business that prioritises profits. From the financial system, to accounting rules, from industry policy to business schools, a particular form of business is fostered. Can these pillars of the business eco-system be shaped differently?
Aid, trade and business policies have largely remained agnostic to the kinds of businesses they are built to support. Development banks, aid programmes and business-policies are implicitly framed around an idea of business that is primarily concerned with maximising its profits. Instead, policy-makers can remake access to finance (e.g. credit-guarantees to social enterprises and cooperatives), support business incubators for Fair Trade entrepreneurs and reform business laws, tax codes and accounting rules so they favour mission-led models of business. There isn't a blue-print for this, and policy-makers themselves will need to innovate and adapt.
As the world struggles with the SDGs, the need to think more boldly about the economies we are shaping will only grow. A key part of this is the DNA of the businesses that populate our economies. Businesses are human inventions and we can choose to reshape. As Fair Trade Enterprises show, business can be re-imagined so it pursues social and environmental goals. Now is the time to be bold and the new Fair Trade Charter can help.
Erinch Sahan is Chief Executive of WFTO. @ErinchSahan